suomeksi · In English
This page contains all relevant information related to training at TFW Kilo. If you can't find the answers to your questions here, please contact info@tfwkilo.com.
INVOICING
HOW DOES MEMBERSHIP INVOICING WORK?
Invoicing is done with the WODConnect application. Invoices will be sent on a monthly basis unless you've ordered a membership with a onetime payment. Invoices won't be sent via e-mail or in paper form, but a new payment appears in WODConnect at the beginning of a full month of your membership, with a 14 day payment period. Overdue invoices will prevent you from booking new classes.
As payment methods, WOD has all Finnish banks, most common credit cards, MobilePay, Pivo and Siirto etc. Please pay your invoices always via WOD application, instead of doing manual payments or payments directly in MobilePay, unless separately instructed to do so. If you want to pay an invoice partially or fully with a sport benefit, please read the instructions below.
It is possible to agree to getting a separate invoice outside WOD, e.g. to be paid by your employer. In these cases, an additional 10 € fee will be added to every invoice.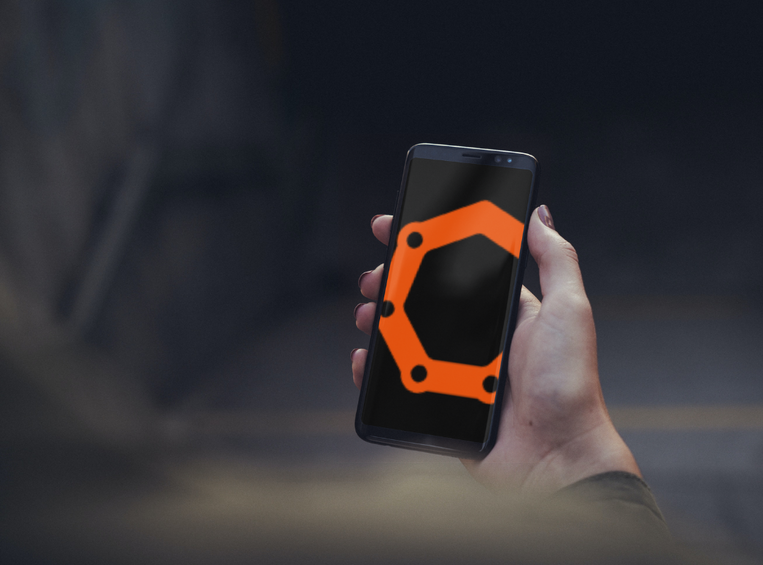 The easiest way to use WODConnect is with your mobile, but it's also accessible with a browser at wodconnect.com.
HOW DO I PAY WITH SPORT BENEFITS?
You can pay all sport services (memberships, 10 time cards, courses) with any of the most common sport benefits. We approve payments with Edenred, EPassi and Smartum. If you want to pay any invoice in WOD fully or partially with a sport benefit, follow the next steps:
Search for

TFW Kilo

in your benefit provider's app (in some apps

TFW Kilo vol. 2

)
Pay the amount of your choice (either full invoice or part of it) and take a screen shot of the payment
Send the screen shot to us by e-mail to info@tfwkilo.com. We will then mark the invoice in WOD as paid or modify the invoice with the remaining sum to be paid.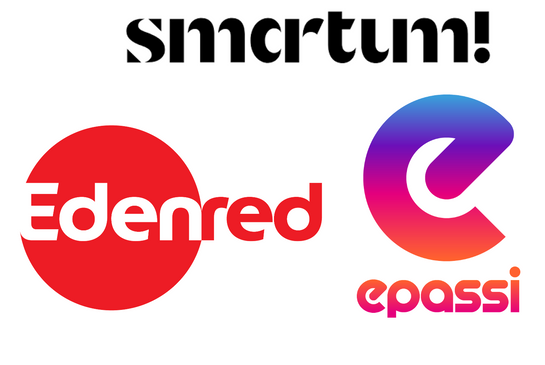 MEMBERSHIPS
HOW DO I RENEW MY MEMBERSHIP?
All 3, 6 and 12 month memberships are temporary, they will not continue automatically after the selected time period. Unfortunately you can't see in WOD, when your membership is about to end. You can conclude this by counting the number of old WOD invoices or by checking the confirmation e-mail we send to you, when your membership has been activated. We will also be in touch with you by e-mail, when your membership is about to expire.
You can't renew your membership in WOD yourself. You can renew your membership by sending e-mail to info@tfwkilo.com or filling in the membership form (jäsenlomake available in Finnish). Please note that renewing the membership is done manually by us, so please send your request for renewal well in advance. This way you can ensure that you can book further classes for your new membership period in advance.
CAN I PAUSE MY MEMBERSHIP?
Memberships can be paused in accordance with the terms and conditions for two reasons:
With a doctor's certificate in situations lasting more than 10 days.
Special cases based on separate requests, which will be handled case by case and in which a case suspension fee of 50€ will be charged
Pausing your membership will always prolong the membership period by the paused time. Terms and conditions in Finnish are available here. If this page and the contract terms conflict, the contract terms will prevail.
HOW DOES THE 12 MONTH MEMBERSHIP'S VACATION MONTH WORK?
12 + 1 month membership contains a so called vacation month. The membership lasts for 13 months, of which you can keep 1 month payment free. You can choose which month you have without payment by sending an e-mail to info@tfwkilo.com. The 13th month of the membership will be automatically the one without payment unless you've held the vacation month previously. You have access to classes also during the vacation month.
10 TIME CARDS AND ONETIME VISITS
If you do it well in advance, normal priced 10 time cards and one time visits can be purchased from WODConnect; there's a shopping cart image in the upper right corner on the front page (Feed). Invoice and attended classes appear in your profile at the beginning of the next month. The invoice has a payment period of 14 days from the beginning of the month. If you want to pay the invoice by using a sport benefit, act as with memberships (instructions above).
If you need a 10 time or one time card into use immediately, you can't buy it as a self-service, but you need to order the card from info@tfwkilo.com.
10 time and one time cards are valid for 6 months after purchase (excluding possible cards with discounts, where limitations have been mentioned). You can always see your remaining visits in WODConnect.
Cards with discounts (students, retirees, HUS, police, rescue service etc.) can only be ordered from info@tfwkilo.com.
CLASS BOOKINGS
HOW IS THE WORKOUT SCHEDULE BUILT?
The class calendar is divided into beginning of the week (Mon-Wed) and end of the week (Thu-Sat). Class names have number 1 or 2 in the end to indicate, if it's a class in the beginning of the week or in the end of the week, e.g. Hurrikaani 1 is a class in the beginning of the week whereas Hurrikaani 2 is a class in the end of the week. In other words, the numbering has nothing to do with how challenging the class is, but it's a way to separate different classes during a week. You shouldn't visit same class multiple times within a week; instead of booking two Hurrikaani 1 classes, rather book Hurrikaani 1 and Hurrikaani 2 classes.
The descriptions of Voima, Hurrikaani/Circuit and Speed&Strength classes are in Finnish in here. In addition to these classes, there are Mobility classes, which concentrate on mobility and taking care of your body.
TFW practice follows a 4 days 4 ever (4D4E) method, according to which it is recommended to work out 4 times per week. Hence you can attend to max. 4 classes a week, with an exception of Mobility class, which can be the 5thworkout of a week. 4D4E method ensures you get enough rest during the week. Having 4 classes per week, you should select one of each class: Voima 1, Voima 2, Hurrikaani/Circuit 1 and Hurrikaani/Circuit 2. You can replace Hurrikaani/Circuit class with Speed&Strength, but it's not advised to replace Voima class with it.
BOOKING A CLASS AND QUEUEING FOR A CLASS
Bookings for classes can be done in WODConnect, tab Bookings. The booking calendar opens up two weeks prior to the start of a class. All bookings can be cancelled as self-service 4h prior to booked class. In force majeures, you can request cancellation in a separate Whatsapp group for cancellations. You can book max 1 class per day and 4 classes per week, with an exception of Mobility class, which can be an additional class perday or the 5th class of the week.
If the class you wish to attend is full, you can add yourself to the queue. The ones in queue will automatically receive spots to the class in queuing order. You'll get an automated e-mail from WODConnect, when you receive a spot from the queue. SMS notification is possible only if you pay extra for using WODConnect.
CANCELLATION FEE
If you don't show up to your reserved class, a 10 € penalty fee will be charged. With this policy we try to reduce the amount of unused reservations, to make sure as many could attend classes as possible. Invoiced cancellation fees will be used to cover any membership events and parties organised for #familia.
COMMUNICATION
In addition to e-mails, we use Facebook and WhatsApp for communication. All relevant information is available through other channels in case you are not using these tools. In Facebook, we have a group called TFW Kilo Warriors, where we post the pictures taken after every class, in addition to general information. In WhatsApp we have a community called TFW Kilo Familia, which has subgroups Vapaa Sana, Tuntiperuutus and MyZone Klinikka. In the first group, anyone can start a discussion about any topic. In the latter group, you can request last minute cancellations for a class under 4 hours before the class begins, when you can't cancel the booking yourself any longer.
WARRIOR STUFF
HOW DO I SET A WARRIOR NAME?
Warrior names are an excellent way to stand out from the group and bring out your own personality. With a warrior name you ensure others remember you more easily! Anyone can set a warrior name, regardless if you've had only one or hundreds of attended classes. You can set your warrior name in WODConnect by adding a warrior name in quotes after your first name in your profile, e.g. Antti "Pedantti".
Please note that your warrior name is updated to the classes you book after you have set your warrior name. So don't be disappointed, if the coach doesn't call you out by your warrior name right away.
Myzone
TFW Kilo and nearly 100 other TFW gyms around the world use the MyZone system. MyZone is a top-tier heart rate monitoring system that is the first in the world to measure heart rate from the wrist, forearm, and chest. MyZone operates on an individual basis, with heart rate zones based on the system's calculated personal maximum heart rate.
During TFW classes, the heart rate zones of MyZone users are displayed on the gym's big screen. However, the use of MyZone is not limited to the gym's four walls! The basic idea of MyZone is very simple. Whenever you exercise and move, track your performance with MyZone. MyZone informs you if you meet the WHO's recommendations for exercise in a month (or your own goal). Any sport and even everyday forms of exercise like walking and cycling are suitable for activities outside the gym. This helps warriors move more and feel better! All measured exercise accumulates MEPs (MyZone Effort Points).
With MyZone, we can also engage in various training challenges with other TFW dojos as a community. This makes training even more communal and fun! #yhdessä
Using MyZone requires a smartphone and the MyZone app. You can purchase your own MyZone device at any time from the gym's lobby.
I already have a heart rate monitor from another manufacturer. Why do I need this?
MyZone complements your current measurement and does not try to replace it! MyZone seamlessly integrates with devices and apps from other manufacturers like Polar, Suunto, and Apple. You can also use the MyZone heart rate monitor with other manufacturers' watches! However, you must always have a personal MyZone device and application to join the MyZone community and the gym's screen.
Why MyZone?
💛 Enables more individualized coaching in TFW classes
🖤 Measures and motivates you to move enough each month
💛 Makes exercise communal within the TFW familia
🖤 Enables training challenges with other dojos
💛 Affordable, easy, and fun
🖤 Three different ways to measure depending on the sport
"100" workouts regognitions
Every time you reach 100 attended classes, the coach acknowledges you. Be proactive and mention your achievement to the coach. In WODConnect, coaches see the total amount of classes, including attended and booked classes. Hence the coach may not notice when exactly you reach 100th attended class. From certain hundreds, you will also receive a cool TFW Kilo wristband as follows:
100 workouts: #HALLUSSA, black
300 workouts: TRAIN MORE, FEAR LESS, yellow
500 workouts: EVERY REP, EVERY SET, yellow
800 workouts: #TFW4LIFE, all black
1000 workouts: special trophy
If you have joined TFW Kilo from another TFW dojo, we can add your previous attendance manually into WODConnect, if you notify us separately
by sending an e-mail to info@tfwkilo.com.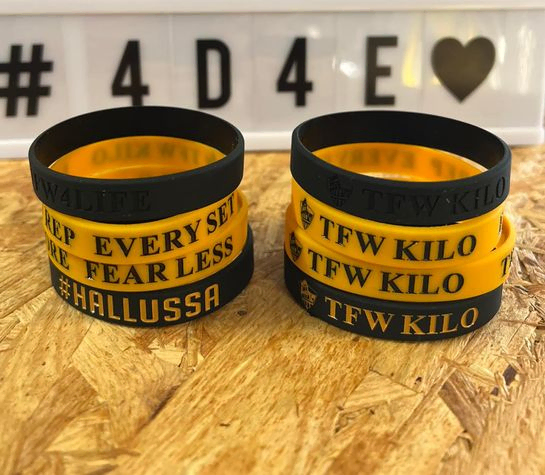 TFW KILO MERCHANDISE
Authentic TFW Kilo merchandise are delivered in co-operation with vaatemyynti.fi. They have a broad selection of different products, which will be delivered directly to you. For some of the shirts you can select a print on the back.
Limited selection of products are also available at the gym. You can try out the products and purchase them at the same price as online.
In addition, we collaborate with Finnish training clothing brand Gymnation. We organise joint orders to Gymnation max once per year, where you have the possibility to order clothing with TFW Kilo's logo in print. Gymnation clothing ordered individually outside joint orders are unfortunately not available with any additional TFW logos. However, you get a 10% discount for your online orders with the discount code TFWKILO.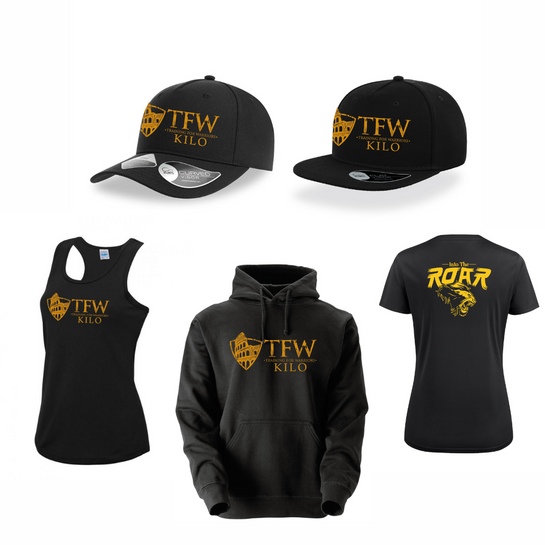 ORGANISING A PRIVATE CLASS
Do you love the sport and do you feel like you want to offer a trial class for your own group? You can order a private class for your work colleagues, teammates, friends or family! We organise private classes of any sizes and levels outside the regular classes. We will take into account your wishes in regards to the private class. You can ask about the pricing and any arrangements by sending e-mail to info@tfwkilo.com.